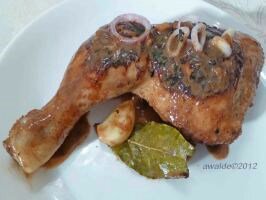 Chicken Adobo (Trevor)
Chicken, Entrees, Meat, Trevor
Prep 45 min Cook 55 min Makes 4 servings Difficulty Medium Source Cook's Illustrated
Ingredients
8 bone-in chicken thighs, 5 to 7 oz each
1/3 c soy sauce
1 (13 1/2 ounce) can coconut milk
3/4 c cider vinegar
8 garlic cloves, peeled
4 bay leaves
2 t ground pepper
1 scallion, thinly sliced
Directions
1 Toss the chicken with the soy sauce in a large bowl. Refrigerate for at least 30 minutes and up to 1 hour.
2 Remove chicken from the soy sauce allowing excess to drip back into the bowl. Transfer the chicken, skin-side down, to a 12 inch non-stick skillet; set aside the soy sauce.
3 Place the skillet over medium-high heat and cook until the chicken skin is browned 7 to 10 minutes.
4 While the chicken is browning, whisk coconut milk, vinegar, garlic, bay leaves and pepper into the soy sauce.
5 Transfer the chicken to a plate and discard the fat in the skillet. Return the chicken to the skillet skin-side down, add the coconut milk mixture, and bring to a boil. Reduce heat to medium-low and simmer uncovered for 20 minutes. Flip chicken skin side up and continue to cook, uncovered, until chicken is done, about 15 minutes (175 deg F internal temp).
6 Transfer chicken to platter and tent loosely with aluminum foil.
7 Remove bay leaves and skim any fat off surface of sauce. Return skillet to medium-high heat and cook until sauce is thickened, 5 to 7 minutes.
8 Pour sauce over chicken, sprinkle with scallion and serve.
Notes
Works fine with breasts, you just don't get the yummy crispy skin.
I chop up the garlic instead of adding whole cloves and don't bother with the scallion.
Nutrition
Calories 790.3
Calories from Fat 405
Total Fat 45.0 g
Saturated Fat 23.5 g
Cholesterol 157.9 mg
Sodium 1522.2 mg
Total Carbohydrate 57.9 g
Dietary Fiber 0.9 g
Sugars 52.1 g
Protein 36.7 g